CoStar Group Inc.
The former American Motors Corp. headquarters on Detroit's west side is expected to be torn down and replaced with new industrial/warehouse space. General Motors Co. is in talks to use the new building or buildings that rise in its place.
General Motors has undertaken a major warehouse and industrial leasing spree supporting electric and autonomous vehicle production at two area plants.
The automaker has inked one deal in Pontiac and is expected to be an incoming occupant of a major Detroit redevelopment project on the city's west side, Crain's Detroit Business has learned. Crain's is an affiliate of Automotive News.
Dan Labes, executive managing director in the local offices of New York City-based brokerage firm Newmark, said GM has signed a lease for about 715,000 square feet of newly built space on 44.5 acres of Pontiac land formerly owned by defense contractor Williams International Co. developed by Flint Development, based in Kansas City.
Newmark represented Flint Development while the Royal Oak office of Chicago-based brokerage firm JLL represented GM.
GM spokeswoman Maria Raynal said in an email that the building will be supplemental "to support logistics and other EV work at (the) Orion" Assembly plant but declined to elaborate on precisely what operations will be in that space.
In addition, GM is expected to be the tenant in the building or buildings totaling about 760,000 square feet that rise on the site of the former American Motors Corp. headquarters building on Plymouth Road in Detroit, real estate sources have said.
Raynal said that a lease for the AMC space "has not been finalized or signed, but ultimately we plan to use it as supplemental space to support EV manufacturing at Factory Zero."
Sources have said GM is expected to take all of the redeveloped space.
Raynal also declined to provide additional details on the specific operations that may go in the redeveloped AMC property, as well as the footprint the automaker is eyeing.
Tim Conder, vice president of development for NorthPoint Development LLC, the developer of the AMC project, declined comment Thursday morning.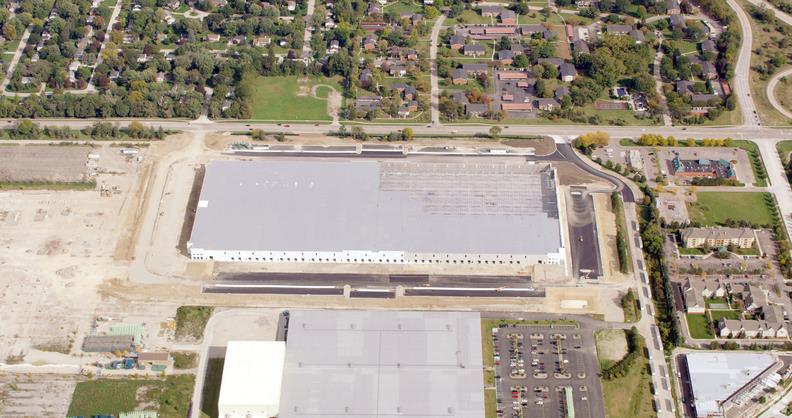 CoStar Group Inc.
General Motors Co. has leased this new building in Pontiac totaling about 715,000 square feet to support its operations at the Orion Assembly plant, which produces electric vehicles.
Sources said the Pontiac lease is expected to provide space so GM can move operations currently housed in its Orion Assembly plant, which produces the Chevy Bolt EV. The AMC property, if the deal comes to fruition, would be for Factory Zero, GM's EV plant near I-75 and I-94 previously known as the Detroit-Hamtramck Assembly plant.
In addition, a subsidiary of Detroit-based James Group Inc. has signed a lease for a 742,000-square-foot warehouse in Wixom on the site of the former Ford Motor Co. Wixom Assembly Plant, where the company aims to store and ship car parts for GM.
In all, that marks at least 2.2 million square feet of new space leased directly to GM or tied to the automaker.
Last week, Conder said at a Detroit Homecoming event that NorthPoint's purchase of the AMC site from the city is expected to close Oct. 6.
The hulking property at 14250 Plymouth Road closed 12 years ago. NorthPoint plans to construct either a pair of warehouse/light industrial buildings — one with 513,000 square feet and another with 215,000 square feet — or one such building totaling 761,000 square feet.
NorthPoint's plan was announced in December.
Some in the historic preservation community have been concerned about the plan to tear down the building's Art Deco-style tower; Conder has said that reusing portions of the building — which is not on the National Register of Historic Places — is cost-prohibitive.(Source:Automotive News)